The crucial role played by women in the ongoing recovery from the COVID-19 pandemic is being celebrated this International Women's Day (IWD).
"Women in leadership: Achieving an equal future in a COVID-19 world" is the theme for IWD 2021 on 8 March. This year's IWD aims to highlight the role women have been playing at the forefront of the global health crisis – as health workers and caregivers, community organizers and innovators.
International Women's Day 2021 focuses on the role women can play in 'building back better', thanks to their different skills and experience ;
Women have been disproportionately affected by the pandemic, representing 54% of overall job losses ;
Female leaders have been praised for their roles in response to COVID-19, but remain under-represented in decision-making.
A more collaborative gender approach due to COVID-19
In May 2020, at the height of the outbreak, 21 countries had a female head of government or state, according to UN Women.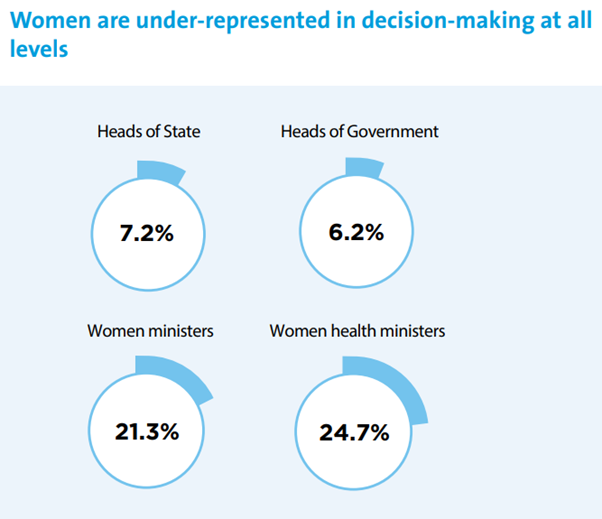 Lack of women leaders at all levels
Yet women remain woefully under-represented at all levels of decision-making worldwide. They only account for a quarter of members of parliament and, as of 1 January 2020, only 21.3% of ministers were women, according to UN Women. And while women make up 70% of health sector workers, only 24.7% of health ministers are female.
Women were also disproportionately impacted by the pandemic. McKinsey estimates that women's jobs were 1.8 times more vulnerable due to COVID-19 than those of their male counterparts. While women make up 39% of the global workforce, they also account for over half of overall job losses during the pandemic.
A UN Women report in November 2020 found that while both men and women had seen their unpaid workloads increase during the COVID-19 crisis, women were more likely to increase the amount of time they spend on household chores and caring duties.
---
Source: World Economic Forum https://www.weforum.org/agenda/2021/03/international-women-s-day-2021-leadership-un/