Diversity and inclusion is a problem that continues to affect many workplaces in many various ways. Diversity is so important within the workplace as it provides companies with important benefits such as; increased productivity, greater creativity and innovation, better decision making improved employee engagement, improved customer service, and reduced bias and discrimination. All of these factors have helped with providing new ideas to allow the business to move forward.
But how do business leaders promote diversity and inclusion within the workplace to help employees feel valued and appreciated?
Diversity in the workplace is not about filling quotas. It is about creating a safe environment where your employees feel comfortable displaying their talents and ideas. How would you do this? Encourage a comfortable work environment where people share their ideas freely and differences of opinion can be solved before they become more problematic.
Although businesses focus on the need to improve their diversity, there are continuing issues of equality and inclusion. So, how does hiring a diverse team to ensure that employees have the same experiences and opportunities? The reality is in different workplaces, not everyone will be recognized for their talents. However, automation is a tool that can help. Inclusion is needed to give diversity the true impact to change workplaces in a positive setting. Everyone within a business is unique, and differences should be celebrated rather than ignored.
UK Intellectual Property Office (inclusion and diversity report for 2020-2021):
We are all different, we all experience the world differently and our uniqueness helps us bring different perspectives to the table, be more creative, and make better decisions. We believe in respecting people as individuals, and by extension, this means that we might not always treat people exactly the same way. What one person needs to feel included, supported and valued, can be very different to the next. Our cultural principles encourage us to interact with the best of intentions. Respect, reasonableness, accountability, confidence and pragmatism guide our behaviours, our decision-making, and our actions. This is why we have been able to give our colleagues the support and flexibility they have needed to balance home and work in unprecedented ways, whilst still delivering excellent service to our customers.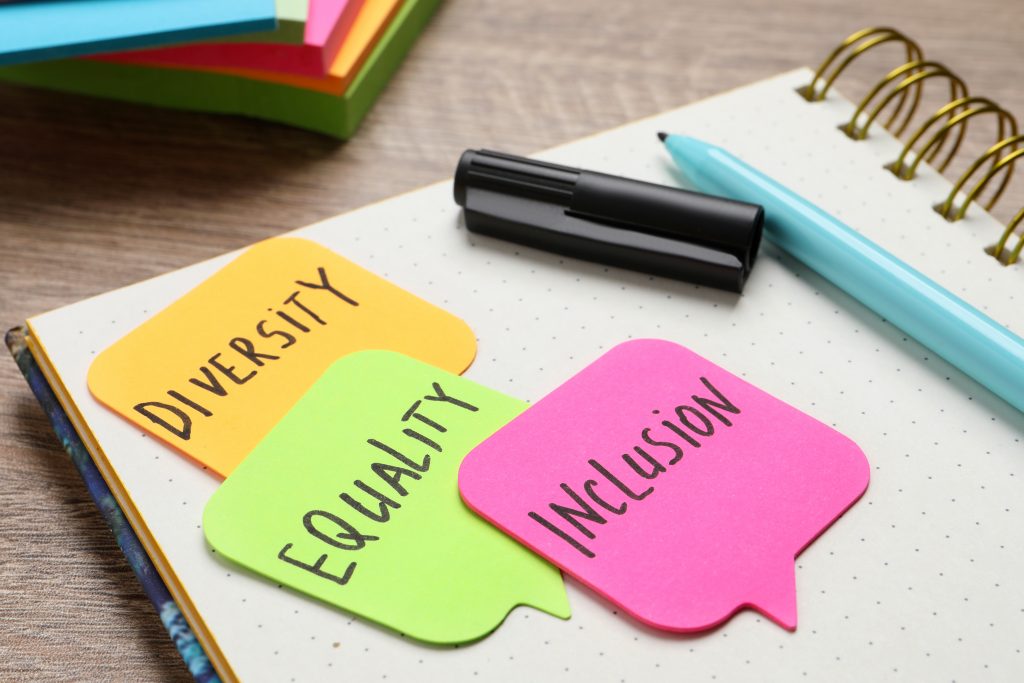 So how does automation help improve inclusivity within the workplace?
Ask questions:
Using tools such as anonymous surveys is a great way to understand how your employees feel. Asking open questions allows your people to express their opinions on diversity, inclusion, and workplace culture in a safe space. As surveys can be repeated, it would be helpful to gain data every 6 to 12 months. This range will provide a substantial amount of data to analyze, which allows you to see where you can improve. This is one insightful method in which technology has helped businesses become more self-aware. Gathering employee feedback is the first step towards making more informed decisions that affect the people within the organization. As employees contribute into shaping the workplace culture it is important to obtain and take on board their insights.
Make sure everyone is being heard:
It is easy for people's voices to become lost in relation to their co-workers. Through hearing out employees your company is more open to receiving new ideas from all areas and departments. This will lead to your business being a positive workplace that values its employees and will make everyone feel included. Being heard will allow your employees to show their talents and make the most out of their role.
Promote diversity training to everyone:
According to Glassdoor, 57% of employees think their companies should be more diverse. The need for diversity sometimes does not translate with the actions of some peers due to unintended biases. Therefore, it is essential for business leaders to instill successful workplace training. The intent behind the training is to allow employees to become more comfortable with different concepts that they are unaware of.
Hire who is right:
Through the hiring process, it is known that people have experienced bias even though they have the credentials to get the job. All businesses need to promote diversity from the get-go to have a mix of skills, perspectives, personalities, and behaviors. With a more diverse team, you will have the chance to see opinions from different perspectives and varying skill sets. Through the hiring process, you can make a team that is stronger, inclusive, safer, more effective, and more productive.
Hold people accountable:
This is a very important factor that accountability is held when it needs to be. The actions of the leadership set the tone for the culture within the business. It is crucial to lead by example, if there are actions that make an employee feel uncomfortable and excluded it is vital that something is done about this. Through recognizing those who have displayed a bias toward other it is essential that problems are resolved in an effective and professional manner.
Invest in systems that help your people:
Using HCM systems can help employers identify bias and objectively assess skills, competencies, and talents while ignoring demographic factors like gender, race, and age. HCM is used by businesses as a tool to keep track of behavioral health and human services of the organization. HCM makes it easier for businesses to go through data and provide insight into your organization, especially will highlight areas of inequalities that increase diversity. Using a system created specifically for people, data can be used to tackle the issues of diversity bias and inclusion.
What can pecen do?
We at pecen are partnered with Unit4 which specifically builds HCM and ERP software for people, and we implement these systems. Technology is the perfect tool to help support your team and can be used to assist in the implementation of your strategy for the diversity problem. Through our implementation process, we aim to discover where the pain points are for the business and provide customizable software specific to the organization's needs. Through automation, businesses have been able to become more streamlined and gain better business insights to improve the experience for people.