It is key for Manufacturers to move away from their old legacy system and move towards the new
We at pecen specialize in supporting manufacturing businesses within the UK. We understand that manufacturing is one of the most complicated industries and demands versatile tools that are needed to maintain the productivity of the company. What many manufacturers are coming to realize is they can greatly benefit from the right ERP software, which can ultimately streamline the business by automating time-consuming tasks.
Many businesses felt the effects of the pandemic and geopolitical conflicts, however, during the difficulties many felt the benefits of improving their automation through cloud-based ERP. As there has currently been a rise in demand for products, manufacturers that are unequipped with the right tools are unable to meet the requirements to meet demand.
What smaller and mid-sized companies don't realize is that they have the edge over larger manufacturers. Why? The answer is simple, these businesses have more flexibility. Make sure you don't miss out on your competitive advantage. You can adopt the right kind of change without disrupting your current processes. This is where we at pecen come in to make sure the implementation process is as seamless as possible at a pace that is right for you.
So how does Acumatica's Manufacturing edition help?
Acumatica ERP gives you real-time data that can be accessed anytime, anywhere 24/7 and this provides you with a 360-degree view of your company with accurate data. Through this, business owners will be able to analyze data from all (to specific) areas of the business. You will be able to pick up on disruptions before they occur allowing efficiency and transparency.
Acumatica provides Manufacturing-specific ERP software that is designed to suit the certain needs of manufacturers. The right manufacturing-specific ERP solution should provide integrated applications for production, estimating, engineering, material planning, scheduling, and product configuration—for both discrete and batch process production.
What Acumatica offers is a solution on a single platform to provide you with accurate reports, analytics, and effective dashboards which allow businesses to succeed even with constant difficulties.
So what functionalities does Acumatica provide?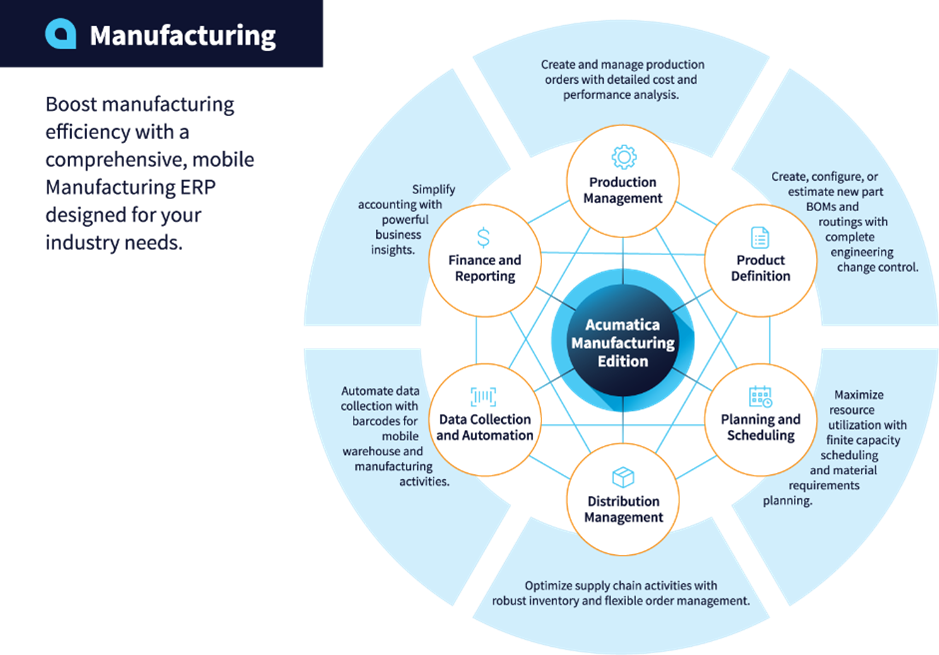 Production Management:
It will allow you to gain flexibility within your company with the method that suits your business best, whether that be make-to-stock, make-to-order, engineer-to-order, configure-to-order, project-centric, job shop, batch, and repetitive manufacturing environments.
Acumatica Manufacturing edition helps manufacturers with production demands that occur on the shop floor.
Bill of Materials and Routing:
When it comes to productivity, it is all about accuracy. If there is an inaccurate bill of materials, then this causes delays and other issues. The key benefits of Acumatica's Manufacturing and Routing software are:
Integrated Manufacturing BOM/Routing
Multi-level BOM/Routing
Multiple Costing Methods and Capabilities
Material Requirements Planning (MRP):
With Acumatica's MRP ERP you will be able to generate time-phased manufacturing and purchasing plans for optimal inventory accessibility. You will also be able to reduce inventory, improve customer service, and prevent the struggles with shortages and out-of-stock issues.
The Key benefits of MRP ERP are:
Improved Profits
Maximize Utilisation
Manage by Exception
Advance Planning and Scheduling:
You will be able to monitor and manage your shop floor schedule from a visual schedule board. What Acumatica provides for manufacturers to consistently and cost-effectively meet customer demands as it can set accurate and reliable delivery dates based on the available resources.
Acumatica Advance Planning and Scheduling software will optimize your production process through the integration of various applications that gives users an accurate view of their scheduled production against work centres, machines, and tooling resources. Not only this but there are many more functionalities to Acumatica's capabilities.
Manufacturing Data Collection (MDC):
Another key part of manufacturing is the production of reports and labels to scan materials transition from raw material inventory, through the rest of the process until production is complete. Also, you will have better insights into the clock-in and clock-out, which will capture labour transactions to update work in the process.
So how do we at pecen help?
Well, there are many more functionalities that haven't been discussed within this blog that Acumatica provides, and we are here to implement the right system for your business. The important aspect of implementation is not disrupting the process already in place, and we make sure that your implementation process is as seamless as possible at a pace that is right for your business. We have extensive knowledge of legacy systems and 70+ years of combined experience across many sectors, so we know the ins and outs of what makes a successful implementation.
We also focus on people and making sure that the software implementation is provided with a human touch. Automation is about making lives easier for employees in their everyday tasks; however, we understand that this is a daunting process. That is why we also offer ongoing support as we want you to succeed. Time is usually what it takes to learn the ropes as for a successful operation you NEED competence in all of these areas.
Acumatica's Manufacturing Edition will provide your business with endless capabilities for the future. You will become more adaptable, resilient, and competitive as the right ERP technology can make you innovators of change. We at pecen are ready to help you make the next step of your transformation journey.